Glistening white sand stretches for 60 miles along Myrtle Beach's Grand Strand, an all-American playground with sensational coastal scenery. Discover outstanding golf courses, outlet shopping, and family-friendly shows. Have a blast at water parks and stroll the lively beach boardwalk.
Need help choosing a resort? Be sure to consider its price, proximity to major attractions, and cool extras that spark your interest like pools, restaurants, and kids activities.
Marriott's OceanWatch at Grand Dunes, Myrtle Beach
Luxurious Oceanfront Condos with Two Bedrooms & Full Kitchens – Book Now
Perched right on the beach overlooking the sand and surf, this upscale resort is one of the nicest in the area. It's about 6 miles from downtown Myrtle Beach, close enough to access top attractions with a short drive – but far enough away to feel like a tranquil retreat. Accommodations are two-bedroom, two-bath suites that fit up to 8 people with full kitchens, private decks, and free Wi-Fi. There are numerous indoor and outdoor pools and several restaurants, including two poolside bars. Service is excellent and you'll find tons of activities for kids and adults, including a putting green, fitness center, treehouse play area, and European-style spa.
This Resort is Ideal for Families & Vacation Planners
The Cottages at North Beach Plantation, North Myrtle Beach
Romantic Resort with Poolside Cabanas & Swim-Up Bar – Book Now
Nestled between the Atlantic Ocean and a tidal river, this beachfront oasis boasts three acres of Caribbean-themed pools and hot tubs. Its cute cottages and villas are situated in North Myrtle Beach, a slightly quieter and more laid-back spot on the Grand Strand. With private cabanas and a swim-up bar, the resort feels more romantic than most. Upscale condos feature up to five bedrooms plus free Wi-Fi, full kitchens, large balconies, and tropical décor. Relax at the luxury spa and indulge at the acclaimed fine dining steakhouse and sushi bar.
This Resort is Ideal for Couples & Value Seekers
Island Vista Resort, Myrtle Beach
Beachfront Condos with Indoor/Outdoor Pools & Lazy River – Book Now
Just 4 miles north of downtown shopping and entertainment, this secluded hotel has no high-rise neighbors to spoil its views. Splash around in three pools, including an ancient ruins-themed children's play area with waterfall and lazy river. Chill out at the poolside Tiki bar and tanning lawn. Find a pizzeria (with in-room delivery) and a restaurant with ocean views. Condos have private oceanfront balconies and kitchens plus free DVD rentals and free Wi-Fi. Upgraded suites with whirlpool tubs, dining rooms, and washers are also available.
This Resort is Ideal for Families & Value Seekers
Kingston Plantation Condos, Myrtle Beach
Seaside Condos with Waterpark & Free Beach Shuttle – Book Now
Unwind in a lush, wooded setting with lakes, gardens, and spectacular ocean views. Stay in a convenient location close to several golf courses and great shopping at Barefoot Landing (4 miles) and Tanger Outlets (1.7 miles). Hop on the free beach shuttle or play Marco Polo in three swimming pools. Kids have their own pool playground and complimentary activities. Play tennis and pickleball. Hungry? Choose between two restaurants, two lounges, and a poolside bar. Condos feature two to four bedrooms, full kitchens, and free Wi-Fi.
This Resort is Ideal for Couples & Vacation Planners
Paradise Resort, Myrtle Beach
Affordable Waterfront Hotel with Pool, Restaurant & Bar – Book Now
Located just south of downtown, this oceanfront resort is near hotspots like the Myrtle Beach Boardwalk and Broadway at the Beach. Swim in the sunny outdoor pool or find shade at the indoor pools, hot tubs, and lazy river. Grab a fruity drink at the poolside Tiki hut and feast on American comfort food with an ocean backdrop at Sandal's restaurant. Play a game of cornhole or giant chess. Sweet perks include free DVD rentals, free Wi-Fi, and free parking. Most rooms and condos offer balconies and ocean views.
This Resort is Ideal for Budget-Conscious Travelers & Families
Litchfield Beach & Golf Resort, Pawley's Island
Oceanfront Retreat with 4 Golf Courses & Private Beach Access – Book Now
This serene sanctuary sprawls along the shore of the chilled-out southern end of the Grand Strand. Encounter a welcoming, small-town vibe and peaceful setting about 22 miles away from downtown Myrtle Beach. Discover bike trails and bike rentals, tennis courts, and a lake for fishing. Savor delicious breakfasts with views of the lake at Coastal Dish and toast your luck at happy hour on the Tiki Bar's deck. Rooms feature microwaves and mini-fridges; condos and villas also have full kitchens and sleep up to eight guests. Free Wi-Fi and free parking.
This Resort is Ideal for Couples & Value Seekers
Sea Crest Oceanfront Resort, Myrtle Beach
Beachfront Getaway with Fun Water Park Near the SkyWheel – Book Now
With nine colorful pool areas including a 250-ft water slide, your kids may not want to leave this family-friendly resort. Float down the lazy river, soak in the hot tub, and talk to the parrot pirate mascot. Enjoy food and live music at the Malibu Beach & Snack Bar. Sip a Starbucks latte at the Beach Java Café. Rooms provide free Wi-Fi, microwaves, and mini-fridges. Oceanview balconies and multi-room suites with full kitchens are also available. It's a 4-minute walk to Family Kingdom Amusement Park, 2 miles to the SkyWheel, and 3.5 miles to Broadway at the Beach. Parking is free!
This Resort is Ideal for Families & Budget-Conscious Travelers
Compass Cove Resort, Myrtle Beach
Large Beachfront Resort with Free Airport Shuttle – Book Now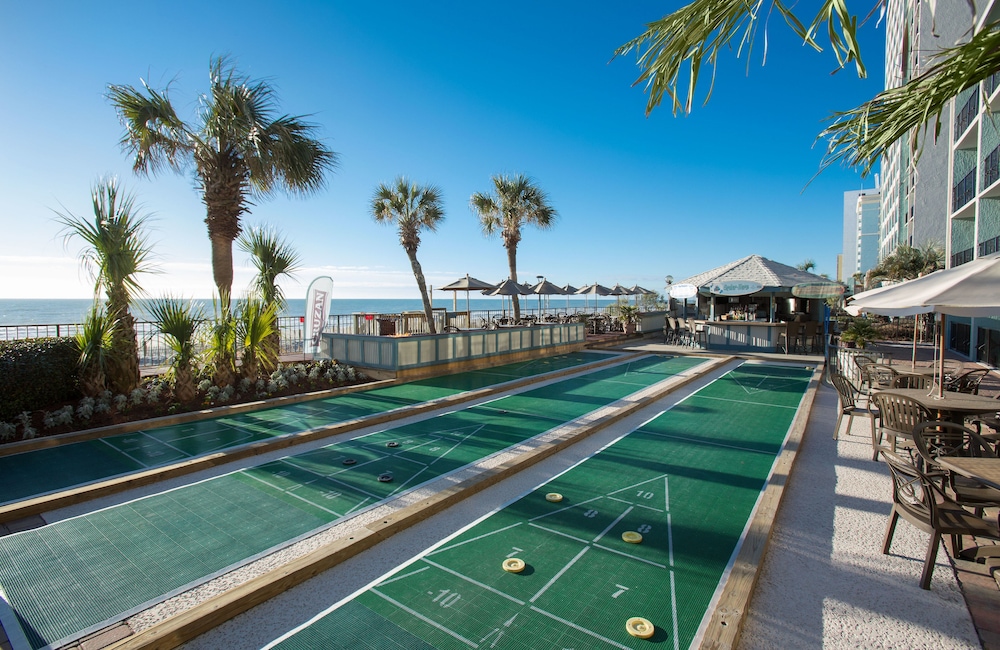 This resort has something for everyone. One of the largest resorts in Myrtle Beach, Compass Cove offers over 530 rooms–from Oceanfront suites to 3 bedroom condos. You'll enjoy no fuss transportation to and from Myrtle Beach International Aiport (MYR) with the resort's free airport shuttle. If you're hoping to get in plenty of pool time during your stay, Compass Cove features 4 outdoor pools, two indoor pools, a lazy river, and even water slides! If you prefer to stay dry, join in on a game of shuffleboard or dine at one of the three restaurants while enjoying a view of the Atlantic Ocean.
This resort is ideal for Families and Traveling with Friends